The process of going through litigation is a difficult process and one that if you don't have experience doing, bad things can happen to you fairly quickly. People end up getting defaults. There are deadlines that are set by the court if a loss has been filed against you if you miss those deadlines, judgments can be entered against you, you can lose property, you can lose money, you can lose all kinds of things if you don't understand the process enough to know when you're supposed to do certain things. That's why lawyers are trained to do these things and of course, when you've been doing it for 30+ years like I have, you have the process down.
One of the things I try to do is explain to people up front exactly how the process is going to go. Call us or get in touch with us through our website. One of the things we try to do with people is explain the process to them, let them know whether or not we feel like they need to hire an attorney. Sometimes we tell them, "Look, this is a process you can handle for yourself to minimize the expense." Generally speaking, there's always somebody at the office available to take a telephone call. If you get with us through our website, we endeavor to try to respond within 24 hours.
Contact Us Today – Click Here
Opening its doors in 1983, Winters & King, Inc has been dedicated to ensuring that every client is put on the right path to bring resolve to the legal issues that will arise within their organization or lives.
At Winters & King, Inc., we understand that it is difficult to make the decision to trust a law firm when it comes to your life or business. Our firm provides a wide range of legal services, so that you know from start to finish you have a trusted partner who will understand any legal issues you face. We focus on making sure that our clients have confidence in our ability to help them every step of the way.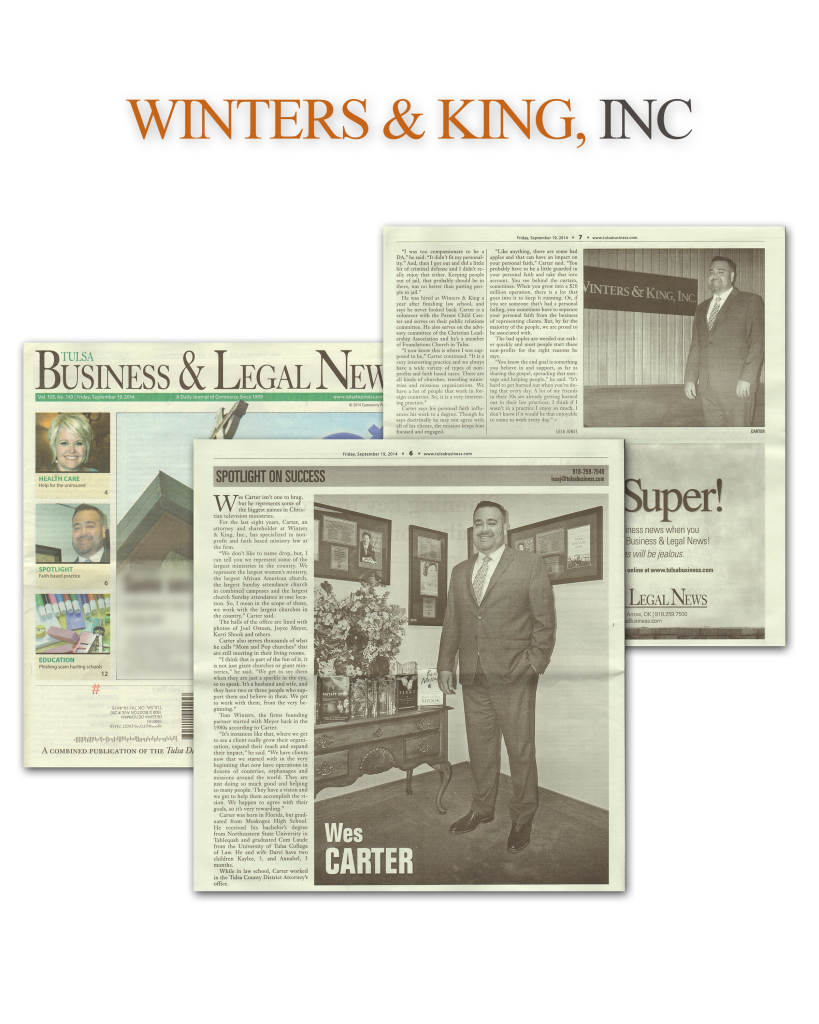 You can count on our firm to maintain your values and ensure resolve for the legal issues you face as a person or in your business. We strive to make sure that our clients are taken care of. Contact us today and see what the law firm of 30 years can do for you.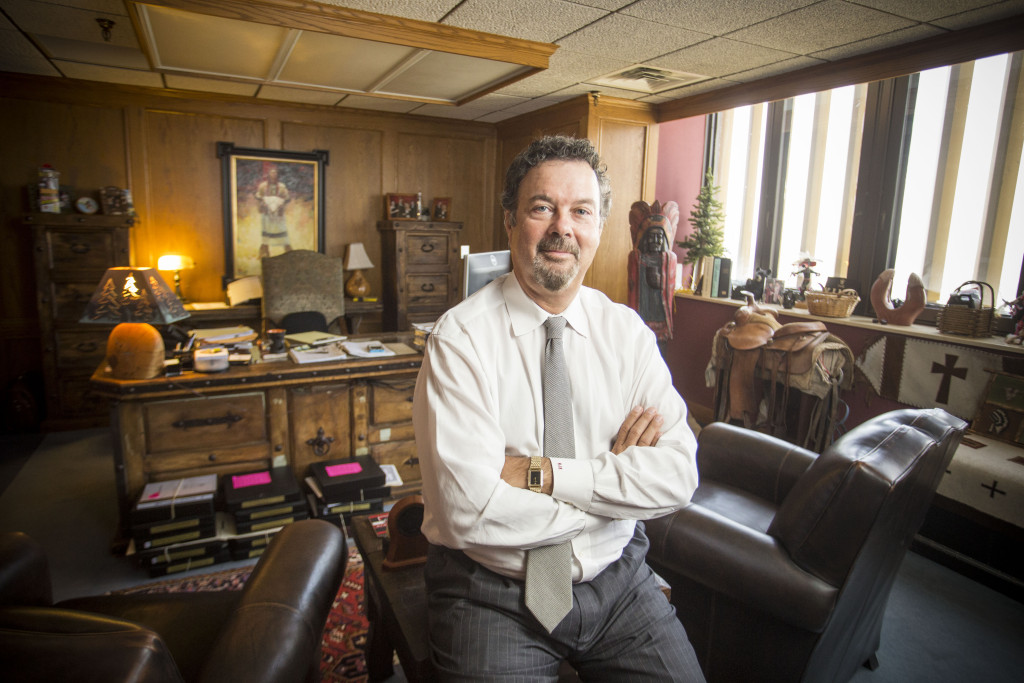 You have formed your new business and are working on forming your LLC. But what is the next step? It is time to find the right Tulsa LLC attorneys with the experience and knowledge you need. You don't have a lot of time to waste when forming a new business. We know that when it comes to a startup company, most of your hours are spent working on forming business plans and marketing strategies. You don't have extra time to fill out the countless hours of paperwork that it takes to form your LLC. That is why you need to look into the attorneys at Winters & King, Inc. Call 918-494-6868 to get started.
These attorneys have years of experience in forming LLC's. They are Tulsa LLC attorneys that offer a wide range of services including business formation litigation, guardianship, estate planning, church law, publishing, corporate law, personal injury, family law, and criminal defense. They offer such a wide range of services, including forming LLC's. When you sign on with Winters and King, you are signing on with attorneys that have local and international success in law. They are one of the most trusted and respected law firms across the nation. They have clients in all 50 states and around the world.
Chances are that when you are starting your business, you have a lot on your plate. That is why these Tulsa LLC attorneys will do all the paperwork for you and fill out everything that you need. The reason you can trust them is simple. They have experience for over 30 years. They have helped over 4,500 religious and nonprofit organizations. They have even helped international clients. They have helped clients all over the world and in all 50 states. They have even helped clients who have been on the New York Times top seller List.
But it is not just their experience that makes them different. What makes them different is that they are a balanced law firm who focuses on individuals, families, and small businesses. Depending on what type of business you want to form, they have the experience that you need in every area. There are a lot of different business types out there and these attorneys know which one fits your company superior . They will help you choose the greatest kind of business for you and your specific situation. No matter what you think you may need, these attorneys will be there to help you.
Hiring Tulsa LLC attorneys is the right move when starting a new business. When forming your business model, you need to include hiring attorneys as part of the cost. It is a well worth it to you and your business. Get started today by giving us a call.
LLC Attorneys To The Rescue
This content was written for Winters and King
This group of attorneys can help you figure out all of your LLC needs. When you are looking for Tulsa LLC attorneys, these attorneys are here to rescue you in your time of great need. You need a guide by your side when you are starting a business. Without the correct guide by your side to help you through the legal waters, you will surely drown and your business will not be prepared. That is why you should call the attorneys at Winters and King. Call 918-494-6868 today.
Our Tulsa LLC attorneys have over 30 years of experience in corporate and business law. They also have experience in other ranges of services including business formation and litigation, guardianship, estate planning, family law, personal injury law, corporate law, criminal defense, and publishing law. They have experience in a wide array of different services. The reason they're able to do this is because they have an award-winning team of lawyers and attorneys. These attorneys all have specific strengths that they apply to the team.
The reason that you should choose these attorneys to be your Tulsa LLC attorneys is simple. They are honest and trustworthy and they will always work on your case to ensure that you have everything you need when legal issues arise. Their promise to all of their clients is to work tirelessly for them and to make the most wonderful use of their money. They realize that as a small business, you are on a tight budget. They know that divulging part of your funds to pay an attorney is probably not what you wanted to do. But when you hire these attorneys, your money will be very well spent because your LLC will be formed correctly and you won't have to worry about filing the paperwork on your own.
Not having to worry on filing the paperwork saves you a lot of time and allows you to focus on other things. As you trust these Tulsa LLC attorneys to file your LLC paperwork for you, this enables you to get back to your business. That means you can get back to the process of forming a business plan, advertising, coming up with new marketing strategies, and hiring new key personnel. When you are able to focus on your business and how you will grow as a business, the attorneys at Winters and King are able to take care of the legal issues for you.
These attorneys at Winters and King are waiting to take your phone call. Their team of award-winning employers has local and international experience in the world of business law. They are built on values and work ethic. You can tell from the moment you meet them that they will work hard for you. Their goal is to make you feel confident in them as attorneys. Just call them and talk to them.  Ask them a question about forming your LLC. Call them today and get started.