Spencer C Pittman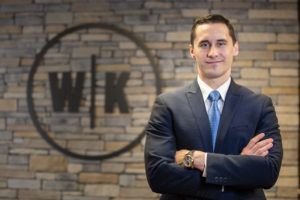 Attorney Spencer C. Pittman is a valued member of the litigation team at Winters & King, Inc. Mr. Pittman has proven to be a successful and aggressive civil trial attorney. He began his career defending some of the largest national insurance companies in America, particularly in the areas of negligence, personal injury, trucking litigation, construction defect, and both residential and commercial property damage. This experience provided him a wealth of information regarding the claims and litigation process which he now uses to represent individuals, for-profit entities and a variety of non-profit organizations.
Mr. Pittman was born and raised in Tulsa. He received his B.A. from the University of Oklahoma and his law degree from the University of Tulsa College of Law. In his free time, Mr. Pittman enjoys public speaking and writing. He has presented seminars regarding the legal defense and protection of churches in litigation and he has been published in the Oklahoma Bar Journal in a wide variety of legal topics. He and his wife, Julie, live in Bixby and are both active-members in their church.
Mr. Pittman is also highly involved in the community and received recognition in both undergraduate and law school for his community service and outreach. He currently serves as Vice-Chairman of the Board of Directors for Counseling and Recovery Services of Oklahoma (CRSOK), an out-patient behavioral health organization that provides substance abuse and mental health services to Oklahomans of all ages. He has also been awarded with the highest federally recognized community service achievement attainable, the Presidential Volunteer Service Award, for his contribution to the drug court program in Oklahoma.
---
Areas of Practice:
Litigation
Business law
Business transactions
Nonprofit organizations
For-profit organizations
Personal injury
Admitted:
State of Oklahoma
Northern District of Oklahoma
Western District of Oklahoma
Eastern District of Oklahoma
Education:
J.D., University of Tulsa College of Law
B.A., University of Oklahoma
Professional associations:
Oklahoma Bar Association
American Inns of Court (Hudson-Hall- Wheaton Chapter) Oklahoma Academy for State-Goals