Car Wreck Attorneys
This content was written for Winters and King
In 1983, the Tulsa attorneys of Winters & King, Inc. had a vision of standing out from the crowd. Our goal was to form a firm that personified the principles that make this country great — integrity, honesty, work ethic, and belief. It is our faith in these higher principles that has enabled our practice to grow during the past 30 years to encompass valued clients in all 50 states and countries all over the world.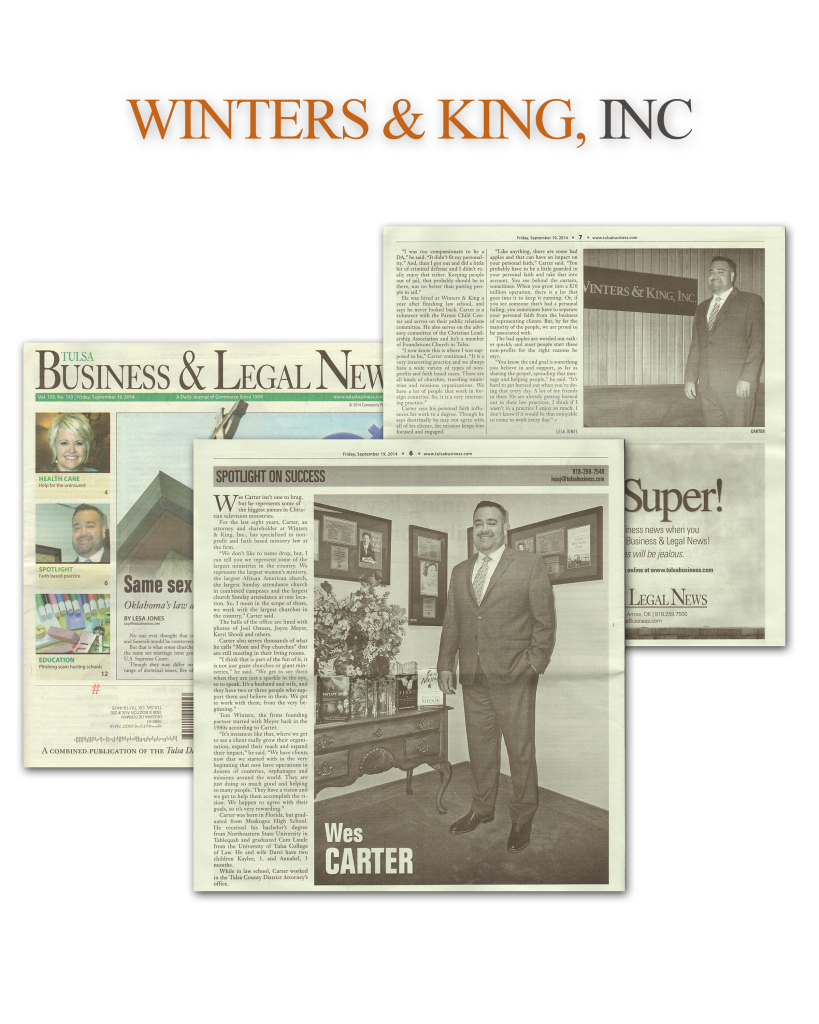 The Tulsa attorneys of Winters & King, Inc. represent all types of people and organizations including corporations, churches, ministers, professional athletes, political and public figures, charitable and nonprofit organizations, families, and individuals. We believe that values and integrity should play an important part in every aspect of life. We strive to understand your goals and expectations — and follow the right path to achieve them.
Let's imagine that your worst nightmare comes true-  you get in a serious car accident. You need to hire Tulsa auto accident attorneys immediately to help you with all of your legal needs that surround a car wreck. Maybe you didn't even know there were legal issues when it came to wrecking your car. Sometimes there are not, but often there are issues. There are a lot of legal issues that come about when you get in a car wreck. When that happens, call 918-494-6868 to get the award-winning team of attorneys at Winters and King to help you with your legal needs.
If you have been involved in a car wreck, your car may even be totaled. What would be worse, is if the other driver didn't have insurance. If that is the case, then Tulsa auto accident attorneys are your only option. They are your only option to make sure that you are safe, covered, and are taken care of during this time. The Lawyers at Winters and King are the ones to go to because they have principled representation for you individually.
They offer great representation for a variety of legal issues including business formation and litigation, criminal defense, corporate law, publishing, church law, guardianship, personal injury, family law, and estate planning as well. See, this is not just your corner law firm that offers a few different things. They are a nationally and internationally represented law firm that has a solid reputation all across the board. In every single area of law, they offer great representation that is personalized to each client. All of their representatives, lawyers, and attorneys work very hard and have a good work ethic about them.
The reason that we tell this information is so you can be confident that they will be representing you well when it comes to your Tulsa auto accident attorneys. They went to the most elite universities and studied to get their degrees in law. That means that they work very hard and do diligent work to make sure that you are represented well in your case. Just because you are not a large corporation, does not mean you are any less important to these attorneys. They take the time and care with each and every case and that is what they stand by.
So you heard it here first when you heard about Tulsa auto accident attorneys. Winters and King offers the attorneys you need and attorneys that stay on top of the industry. They have been able to maintain their solid reputation simply by working harder than everyone else. That is what their reputation has been all along and why they are still so successful at what they do. To get the most successful attorneys, call 918-494-6868 to get the ones with a solid reputation. That's what you need when you get in a car wreck.
Get Back On The Road
This content was written for Winters and King.
When you get in a car wreck, the Tulsa auto accident attorneys at Winters and King can help you get back on the road quicker. They are extremely good at what they do and they have been in business for 30 years. These auto accident attorneys know exactly what you need and the kind of legal representation that will work better for you. That is why you should call 918-494-6868 to get the best legal coverage that money can buy when you call Winters and King. You will get great coverage and specific individualized attention from these highly rated attorneys.
Thomas Winters and Michael King put together a team of award-winning attorneys back in 1983. They have continued to hire the nation's top attorneys to come work for the firm and to be Tulsa auto accident attorneys. The reason they have put together a team of award-winning attorneys is because they know they can trust these people. They have built their foundation on trust and therefore only hire trustworthy attorneys just like them.
Just like the way that they hire only the most trustworthy attorneys, they only hire the most professional attorneys as well. All of their Tulsa auto accident attorneys are very professional and work hard at what they do. Another principle that they were founded on is work ethic. Are you a hard worker? Well the people here are hard workers. The people at Winters and King work tirelessly and around-the-clock to make sure that you get the proper legal representation that money can buy. They truly do work very hard for you and they offer honorable representation for a variety of legal issues in Tulsa and around the world. If you don't take my word for it, take the word of thousands of their clients.
They have had thousands of clients in America and around the world as well; They are not just a local law firm. They have helped clients that are located in international areas as well. The reason they have such a solid reputation is because of their world wide reach. They have a solid reputation because they have helped people all around the world and in America… actually people in all 50 states. So many people come to them for legal representation because they offer such a wide variety of legal needs. They can meet the needs of everybody not just a few. Not just large corporations, but everybody.
They don't just help big corporations, they also help individuals. These Tulsa auto accident attorneys know how frustrating it can be to be in an auto accident. Most people get involved in a car wreck at some point in their lives and it always happens when you are least expecting it. So when it does happen, you will know who to call. What is that number again? It is 918-494-6868. It is the phone number that you should call when you get in trouble.
---
Learn More About Tulsa Public Relations Firm, Make Your Life Epic